All about our Kitchen Queen stoves
Posted by Northern Cookstoves on 25 November 2022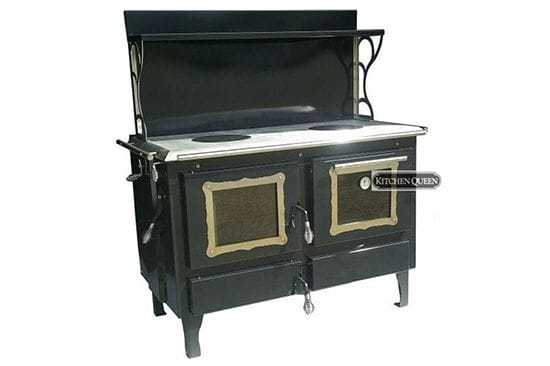 Kitchen Queen Stoves
Northern Cookstoves and Heaters are proud to be the Canadian dealer for Kitchen Queen Wood Burning Cook Stoves. Kitchen Queen's line of wood-burning heaters and Amish wood cook stoves in Canada is built in the USA, guaranteeing quality and longevity. Explore all of our Kitchen Queen products, including the Kitchen Queen 380, Kitchen Queen 480, and the Kitchen Queen Grand Comfort Stove!
Kitchen Queen Stove: The Grand Comfort 750 Wood Cook Stove
Northern Cookstoves is excited to be to offer you The Grand Comfort 750 wood cook stove. This new model boasts a double re-burn system that increases heating efficiency to 88%, making it one of the most efficient wood-burning cooks stoves available in Canada today.
Kitchen Queen Stove: Hearth Master Cook Stove
The Hearth Master was developed with you in mind. The Hearth Master comes standard as a flat top but it can be upgraded with a warming shelf or even a warming oven. Choosing to add the optional water reservoir provides you with the only water heater available that has 0 ongoing, operating costs, which means you get all the hot water you want, absolutely free.
Kitchen Queen Stove: The Kitchen Queen 480 Wood Cook Stove
The Kitchen Queen 480 Wood Cook Stove has been designed and tested with the economy, high efficiency, and utility in mind. Kitchen Queen products are some of the most in-demand wood cook stoves in Ontario and across Canada. Utilizing natural heat convection, the airtight design is a radical and daring departure from the wood-burning cookstoves of yesteryear. The Kitchen Queen 480 cook stove will cook your food, heat your home, and maybe most importantly, save you money thanks to its high efficiency
Kitchen Queen Stove: The Kitchen Queen 550 Grand Comfort Stove
The Kitchen Queen 550 Grand Comfort Stove is a high-efficiency wood-burning cook stove that boasts a double re-burn system that increases the heating efficiency to 88%.
About The Manufacturer
My life as an Amish wood cook stove builder started while working summers in the 1970s at my grandfather's stove company, Knox Stove Works. Starting in the paint room, I was slowly introduced to all aspects of the construction of the Mealmaster wood cook stove. As an apprentice die maker, I learned the value that tight tolerances in construction led to a high-quality and long-lived product. Interning at the porcelain enamel plant reinforced the importance of quality and detail in every aspect of the steel parts' fabrication. Even the slightest imperfection was magnified many times when the porcelain coating was applied leading to a rejected part.
Through the years of building and selling wood cook stoves in Ontario, I have had the great opportunity to work with many leaders in the wood-burning cooking stove industry. This networking gave education no school or book could give, as years of trial and error gave these cook stove manufacturers the wisdom to build a solid product.
In working with and visiting the Amish cook stove factories, the true craftsmanship and attention to detail is apparent in Kitchen Queen products. Duane Miller of Kitchen Queen is a prime example of someone who has built high-quality, high-efficiency wood cook stoves for many years. For this reason, I was happy I got the opportunity to work with Duane in selling the Kitchen Queen line of wood-burning heaters and Amish wood cook stoves. Through all the years of trade shows, all the supplier visits, and all the trade journals read, I can safely say Kitchen Queen manufactures some of the best wood cook stoves I have come across. When purchasing one of Kitchen Queen's airtight wood-burning stoves, one can rest assured the entire staff of the factory stands behind each and every product 100%. They produce not just air-tight wood stoves, but generational stoves which will cook your meals and warm your home for many generations to come. For more information about Northern Cookstoves and our Kitchen Queen stoves
, contact us today
!
Author:Northern Cookstoves