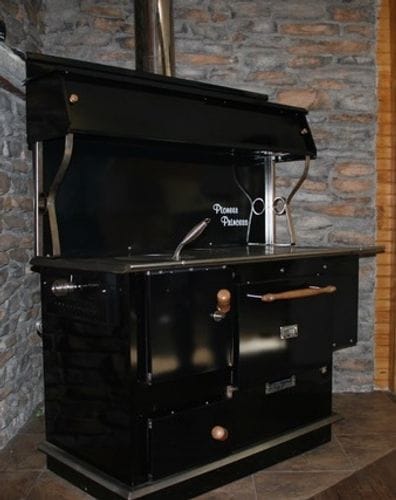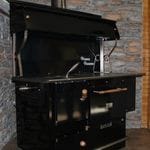 The Pioneer Princess Wood Cook Stove
If you have used a Pioneer Maid wood cook stove and like the way it cooks, bakes and heats, but don't like the fact that it is only a top load stove, then you will love the Pioneer Princess Wood Cook Stove from Suppertime Stoves.
The Pioneer Princess cookstove is hand crafted by the Amish. The high back and shelf provide convenient storage for the items you want handy when wood fire cooking and baking. From the elegant design to the various abilities and features, this is one of the better wood cook stoves you can find in Ontario or Canada.
The Pioneer Princess airtight wood burning stove is the front load version of the Pioneer Maid but with some added improvements! See the description and features below.
Appearance
The Pioneer Princess stove is finished in porcelain black enamel, which is easy to clean, and will keep its shine for many years to come. The cooking area of the high efficiency wood cook stove is made of smooth, polished steel, and it has two eleven-inch removable lids.
Front Loading Door
The Pioneer Princess wood burning cookstove comes standard with a front loading door for easier access.
Stove Construction
The Pioneer Princess is constructed of twelve-gauge welded steel with all internal parts made of stainless steel to prevent corrosion. All seams are welded and not screwed, making for air tight wood stoves.
Ash Removal
Ash removal is made easy with shaker grates that drop the ashes below the firebox into an ash pan that can be accessed behind an air-tight door.
Pioneer Princess Wood Cook Stove Standard Features
Lid lifter, ash pan, stay-cool wooden knobs, black porcelain finish, spring-loaded oven door, oven thermometer and an internal flue damper.
Air-tight for controlled burn

Front Loading Door

Weld steel construction

Stainless steel used internally to prevent corrosion

Shaker Grates for easy ash-removal

Smooth top made of polished steel

Porcelain enamel finish

Nickel Trim

UL/ULC Approved
Wood Stove Installation Guidelines
Click the below link to download a copy of wood stove installation guidelines.
DIMENSIONS
WITH RESERVOIR
WITHOUT RESERVOIR
LENGTH
55"
45"
WIDTH
28.5"
28.5"
HEIGHT
53.5"
51.5"
COOKING SURFACE
LENGTH
52"
43"
WIDTH
22.5"
22.5"
HEIGHT
32.5"
32.5"
OVEN DIMENSIONS
DEPTH
19.5"
19.5"
WIDTH
22"
22"
HEIGHT
13"
13"
FIREBOX DIMENSIONS
LENGTH
18.5"
18.5"
WIDTH
13.5"
13.5"
HEIGHT
18.5"
18.5"
MISCELLANEOUS INFO
LOADING DOOR SIZE
11" x 11"
11" x 11"
SHIPPING WEIGHT
650 lbs
600 lbs
FLUE LOCATION
Rear, Size 7"
7"
SIDE RESERVOIR
7 Gallons
-
APPROX. HEATING AREA
2,000 Sq.Ft.
-
CLEARANCES TO COMBUSTIBLES
LEFT SIDE
25"
-
RIGHT SIDE
18"
-
REAR
25"
-
FRONT
48"
-