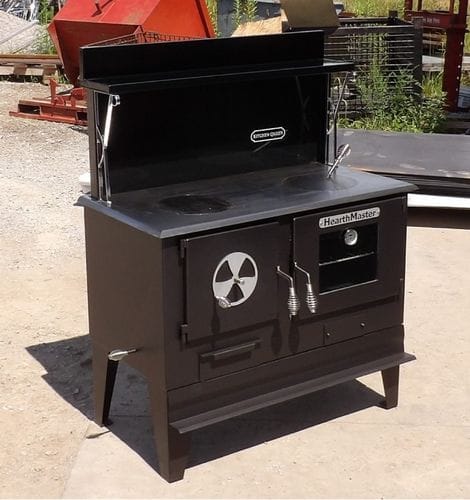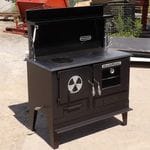 The Kitchen Queen Hearth Master Cook Stove
Due to increase stove demands, Lead times could be 4-6 months from time of stove order to shipping.
An exciting NEW product by an old and proven company
OFF-GRID HEATING, BAKING, COOKING, AND WATER HEATING!!
If you're looking for a wood burning cookstove that:
- Rapidly heats up & rapidly cools down
- Is designed for a smaller living space
- Is easy to operate
- Is efficient and clean burning
- Is lightweight while extremely durable
- Has that classic "Grandma's Kitchen" look
- Is priced affordably
Then the Hearth Master was developed with you in mind.
The Hearth Master comes standard as a flat top but it can be upgraded with a warming shelf or even a warming oven. Choosing to add the optional water reservoir provides you with the only water heater available that has 0 ongoing, operating costs, which means you get all the hot water you want, absolutely free.
The Hearth Master Wood Cook Stove comes with the following features:
Firebox is lined with refractory brick lining

Convenient and easy to use air control

Takes standard firebrick that is inexpensive and easy to replace and install

Uses a Standard 6 Inch Flue

The Cooking surface is thick 1/4 inch steel

The oven is Stainless steel 16 Gauge

Adjustable hinge's on doors

Standard front loading door as well as an 10" inch lid on top to put fuel in.

The outer shell is thick 12 gauge steel

The stove is painted black with high heat paint. For ease of maintenance.

The oven door swings out, not down.

Warmer oven & water tank options available.

UL listed
| | |
| --- | --- |
| | DIMENSIONS |
| OVERALL SIZE | 28" L x 40" W x 32" H |
| COOKING SURFACE | 23" W" x 20" D |
| BACK | 38" W x 21" H |
| OVEN | 16.5" W x 12" H x 18.5" D |
| OVEN CAPACITY | 6 LOAVES |
| FIRE BOX | 16" W x 16" H x 19" D |
| LOG LENGTH | 18" |
| FIREBOX DOOR | 12" W x 11" H |
| APPROX. BURN TIME | 16 HOURS |
| APPROX. HEATING AREA | 1,500 Sq.Ft. |
| RESERVOIR CAPACITY | 17 GALLONS |
| SHIPPING WEIGHT | 450 Lbs. |
| ADJUSTABLE DOOR HINGES | YES |
| SIDE HEAT SHIELDING | YES |
| FULLY BRICK-LINED BURN CHAMBER | YES |
| RE-BURN | YES |
| VERTICAL FLUE OUTLET | YES |
| SEE THROUGH OVEN DOOR | YES |
| UL - ULC LISTED | YES |