Comforting Desserts Prepared on Your Wood Cook Stove
Posted by Northern Cookstoves on 31 July 2023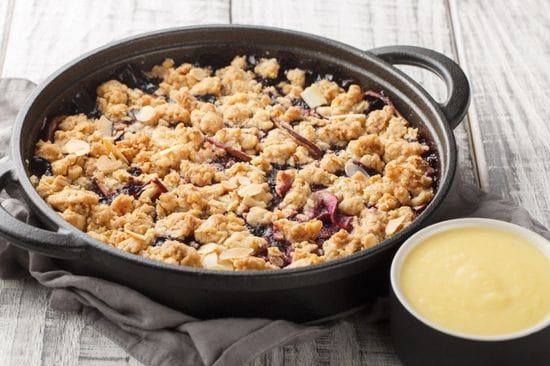 Cooking over a wood cook stove has an obviously attractive quality, and when you explore the realm of warm treats, the experience becomes even more delightful. Your sweet creations take on a magical quality because to the stove's gradual, gentle heat, which enables flavours to mingle and intensify into total joy. The pastries made on a wood cook stove, from warm and flavorful fruit crumbles to fluffy and flavorful cinnamon rolls, are sure to leave a lasting impression. We invite you to embark on a delightful journey of wood stove dessert making that will satisfy your sweet tooth and warm your heart.
1. Rustic Apple and Berry Crumble: Visualize the aroma of a newly cooked apple and berry crumble filling the air as the fire crackles in the wood cook stove. This simple dessert combines sweet seasonal berries with sour apples and is generously sprinkled with a crumbly, crunchy topping. A harmonic fusion of flavours is produced as a result of the fruits softening and releasing their natural juices due to the mild heat. For the ultimate comfort food on a chilly night, serve it warm with a scoop of vanilla ice cream.
2. Old-Fashioned Bread Pudding: Use your wood cook stove to transform stale bread into a delicious old-fashioned bread pudding. A velvety and opulent dessert is produced as a result of the custard's gentle setting due to the slow baking process. With a hint of nutmeg and cinnamon, this bread pudding captures the cozy feel of the wood stove's atmosphere. This traditional delicacy will take you back in time to a time of sweet reminiscence when it is served with a drizzle of warm caramel sauce or a dollop of whipped cream.
3. Fluffy Cinnamon buns with Creamy Glaze: Start your day with the delicious aroma of cinnamon buns that have just been tenderly baked on your wood cook stove. The dough rises beautifully in the low heat, producing fluffy rolls that are tender and fragrant with cinnamon. For an enticing finale, gently spread a creamy glaze over the warm rolls after they have been baked to a golden perfection. These handcrafted delicacies are the height of coziness and will add a particular touch to your mornings or teatime.
4. Rich Chocolate Fondue: Prepare a chocolate fondue on a wood stove for a comforting dessert experience for you and your loved ones. With the gentle heat, melted chocolate becomes silky and smooth, giving it the ideal dipping substance for a variety of fruits, marshmallows, and biscotti. To enjoy this participatory and decadent dessert that will leave you with lasting memories, assemble around the stove, skewer your favourite delicacies, and indulge.
5. Lemon bars with citrus infusions: The wood cook fire brings out the zesty brightness of lemon bars with citrus infusions. The lemon curd sets flawlessly atop a buttery crust thanks to the slow baking procedure, producing a delicious combination of acidity and sweetness. You will enjoy the harmonious flavour combination and the subtle hint of rustic charm from the wood stove as you savour each bite.
Take a trip into the warm embrace of a wood stove and indulge in some cozy treats. These sweets highlight the essence of slow cooking, producing desserts that are sure to please your palate and soul, from the enticing aroma of apple and berry crumble to the fluffy cinnamon rolls. So gather your ingredients, start the fire, and let the beautiful enchantment of your wood stove do the rest.
About Northern Cookstoves
You can always be guaranteed to obtain the greatest wood cook stoves in Canada, with Northern Cookstoves and Heaters. Since we are the region's official retailer for top wood burning cook stove manufacturers including Suppertime Stoves, Margin Stoves, and Kitchen Queen Wood Stoves. Along with offering no-pressure sales approaches, expert installations and services, Manufacturers' Warranties, and a host of other things, we stand by our airtight Amish wood burning cook stoves and our services. Contact us right now for further details about wood-burning stoves and ovens.
Author:Northern Cookstoves