Easy Christmas Decorations Using Your Wood-Burning Oven
Posted by Northern Cookstoves on 20 December 2022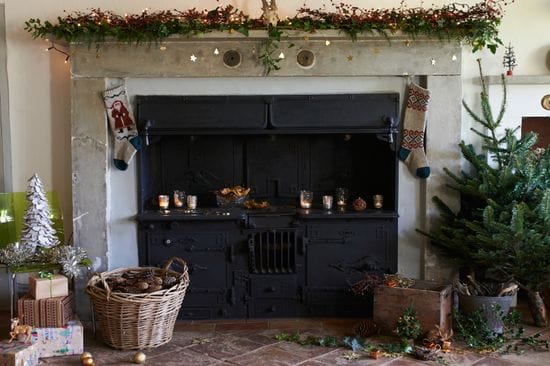 With the holiday season approaching, our living rooms and Pinterest boards are filling up with festive decor ideas and inspiration. While you source and gather your seasonal decorations, the Northern Cookstoves team has some holiday tips on how to transition your wood-burning stove into a seasonal accent.
Let Your Wood-Burning Stove Be The Focal Point of Your Decor
A cozy fire in hues of yellows and reds with rustic wood and metallic accents and finishes, when it comes to holiday decor, the characteristics of your wood-burning oven can not only be integrated but also be the focal point of your holiday decor. To compliment the holiday colours within your wood-burning stove, select metallic Christmas tree frostings, include candles to mimic the red flame and surround your stove with wood accents for a warm and rustic feel.
Transition Your Wood Burning Stove Into a Stocking Hanger
Cooking, shopping, planning and delegating, the tasks involved with hosting or attending seasonal celebrations can be taxing. Utilize your wood-burning stove to take out some of the work. Rather than adding additional hangars to your living room decor, simply hang your stockings off of your wood-burning stove when not in use.
Add Seasonal Stove Top Accents
While planning what delicious food you will make inside of your wood-burning stove, you can take some of the work out of planning your decor by simply placing seasonal accents above or even on top of your wood-burning oven. The Northern Cookstoves team recommends selecting vintage Christmas accents above your stove or opting for a wreath, branch or additional greenery to lay across your stove when not in use.
Wood-Burning Oven Gingerbread Men
These wood-fired gingerbread men are here to help your hunger this holiday season. This simple recipe is the perfect winter treat. To make wood-burning oven gingerbread men, whip together molasses, butter, sugar, flour, cinnamon, milk, eggs and flour, and place them in your wood-burning oven for 40 minutes. Leave your wood-fired gingerbread men to cool on a wire rack, and once cool, decorate with the toppings of your choice!
About Northern Cookstoves and Heaters
Because your investment will live in the "heart of your home," we want you to be completely satisfied with your overall purchase experience - sales, delivery, installation, and service of your new wood cook stove, heater or fireplace insert.
With Northern Cookstoves and Heaters, you can always be assured of getting the very best wood cook stoves in Ontario, Canada, as we're the province's authorized retailer of top wood burning cook stove manufacturers, including
Suppertime Stoves
,
Margin Stoves
, and
Kitchen Queen Wood Stove
. Plus, we stand behind our air-tight, Amish wood-burning cook stoves and services with a no-pressure sales approach, professional installations and service, Manufacturers' Warranties, and so much more. For more information on wood-burning stoves and heaters,
contact us
today.
Author:Northern Cookstoves